Hello, Welcome To CBSE Digital Edu. Today We Are Going To Discuss A Interesting Topic in an Essay on Coronavirus Pandemic 1000 Words. In this article, we discuss all the important information regarding the Essay on Coronavirus in English.
This long essay on Coronavirus is beneficial for School Students of Classes 6, 7, 8, 9, 10, 11, 12, Competition Aspirant (SSC CGL CHSL MTS), and UPSC Exam. Students must read the complete article for all important information about Coronavirus Essay.
Essay on Coronavirus for SSC CGL, CHSL, MTS, UPSC Exam
Essay on Coronavirus Pandemic – From time to time, throughout history, the world has been tormented by newly emerging epidemics. Earlier it was believed that the intensity of destruction caused by such epidemics was largely due to the lack of better health facilities. But this current COVID-19 outbreak has proved that humans are still not fully capable of fighting the pandemics caused by the deadly virus.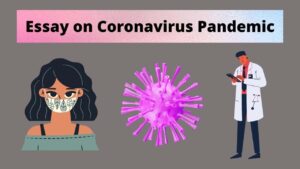 The pandemic has happened even after high technological advances in healthcare infrastructure. The COVID-19 outbreak first occurred in late 2019 in Wuhan, Hubei province of China. Thereafter, it spread to other parts of the world. It was declared a pandemic by the WHO on 11 March 2020.
What is Coronavirus?
Coronaviruses are a large family of viruses that are common around the world and can cause respiratory illnesses in people and animals. There are several known Coronaviruses that infect humans and animals. Human coronavirus was first discovered in 1960. The Coronavirus that infect humans are:
229E (Alpha Coronavirus)
NL63 (Alpha Coronavirus)
OC43 (Beta Coronavirus)
HKU1 (Beta Coronavirus)
MERS-CoV(Beta Coronavirus)
SARS-CoV(Beta Coronavirus)
The new coronavirus, also known as the novel coronavirus or SARS CoV-2, is a newly emerging coronavirus that has never been identified before. This virus is responsible for outbreaks of the COVID-19 disease that causes respiratory illnesses in humans. The new coronavirus is zoonotic in nature, which means it can easily spread from animals to humans.
People infected with the COVID-19 pandemic caused by the new coronavirus experience mild to moderate respiratory illnesses and recover without any special treatment.
But the COVID-19 disease badly affects the elderly vulnerable people, and people with other medical problems. People who have heart disease, diabetes, chronic respiratory diseases, and cancer are more likely to develop serious illnesses.
How Coronavirus Spreads?
The COVID-19 pandemic is mainly spread through saliva or droplets released from the nose when an infected person coughs or sneezes. The virus can also be spread by aerosol particles coming out of the mouth while speaking in closed spaces.
People who are infected with the COVID-19 disease can have either very few infections or a lot of infections. People who have been infected with a low infection load may develop very mild symptoms or no symptoms at all.
People infected with a high infection load develop severe symptoms that can be life-threatening. The virus seems to spread easily in the community and remains in the community for a long time as an asymptomatic infection is not easy to detect.
Common symptoms of COVID-19 disease include runny nose, fever, headache, cough, sore throat, red marks on the skin, loss of taste and smell, rashes, fatigue, diarrhea, etc. People with severe illness due to COVID-19 disease may not be able to breathe easily, feel chest pain and pressure, and may also have a loss of speech or movement.
Prevention of the Spread of Coronavirus
The outbreak of this virus can be avoided only by following social distancing and hygiene.
Try not to shake hands with anyone or go too close to anyone.
Wear a good quality mask and hand gloves when you go out.
Use sanitizer from time to time.
Eat food items after cleaning them properly.
Strictly follow the lockdown guidelines.
Check your body temperature and respiratory symptoms regularly.
Effect of Covid-19 on India
Coronavirus Pandemic has exposed the vulnerabilities of the healthcare system. This virus has affected the primary health care provisions of the people. It has highlighted the lack of health infrastructure in terms of doctors, medical equipment, hospitals, and health workers, both in terms of availability and access.
The Covid-19 pandemic affected most of the workers in the unorganized sector who are daily wage laborers or those working in Micro, Small, and Medium Enterprises (MSMEs) and left them unemployed, and sharply increased the unemployment rate.
With inter-state transport services closed due to the lockdown, farmers are unable to sell their crops in the market. They suffered heavy losses and were forced to throw away their crops. The tourism sector's revenue has come down due to strict restrictions on both domestic and international flights.
The economic growth of the country has declined due to the closure of industries. India entered the era of a technical recession. Most of schools and educational institutions have been closed due to the outbreak of the Covid-19 pandemic.
Learning has gone online which has exposed the digital divide in the country. Also, institutions are not equipped with digital technology and teachers also lack training in terms of using these tools.
Coronavirus affected the supply chains and production or manufacturing facilities of defence companies. As these companies have to depend on various components from different sources located in the affected countries and this reduces the demand for defence equipment.
Impact of COVID-19 on the Global Economy
Amid the Covid-19 pandemic, many countries around the world have adopted complete or partial lockdowns to reduce the infection curve. These lockdowns meant confining millions of citizens to their homes, shutting down businesses and almost all economic activity.
According to the International Monetary Fund (IMF), the global economy is expected to shrink by more than 3% in 2020, the sharpest recession since the Great Depression of the 1930s.
The outbreak of COVID-19 has had a profound impact on the Indian economy. A UN report estimated a trade impact of over USD 350 million on the Indian economy due to the Covid-19 outbreak, making India one of the worst-affected economies across the world.
Positive Impact on the Environment
Due to the nationwide lockdown, 1.3 billion people in the country stayed away from activities that pollute the environment. Due to this the environment was saved from getting polluted and the sky remained clear, pure air was obtained and river systems were also cleaned.
Ganga and Yamuna rivers whose cleanliness is always a concern, this pandemic has proved helpful in cleaning this system to a great extent. Not only this, according to the World Air Quality, the density of 2.5 Particulate Matter (PM-2.5) in the atmosphere has decreased by about 80 percent. In this way, it has proved helpful in cleaning the global environment.
WHO Report on Coronavirus
Declaring the Coronavirus a global pandemic, the WHO has warned the world that this pandemic is not going to end only with a lockdown, but only those who are suffering should be found and kept under observation, only then it is possible to stop it.
In view of the seriousness of this disease, WHO has also said that this virus may never end. WHO has also accepted the infection of this virus in the air.
With regard to the coronavirus, the WHO has expressed satisfaction with India's position, saying that although cases are increasing in India, the death rate is lower than in other countries.
Important Term Related to Coronavirus
Asymptomatic – This is a type of symptom, in which people are infected, but do not show any symptoms. ​In this, the ability to smell is found less in the patients.
Contact Tracing – This is the process of identification of infected people and the people who came in contact with them. It is commonly used in infection containment zones.
Flattening the Curve – In this, the curve shows the spread of the virus. If the curve is high, it shows how many people the infection can affect if allowed to spread unchecked and how many hospitals will be needed.
Viral Shedding – When the virus is transmitted from an infected person to another person by coughing and sneezing, it is called viral shedding. In this, the virus comes out in droplets and spreads.
Ventilator – This is a machine that helps a patient to breathe. It injects oxygen into the lungs and removes carbon dioxide. It is also called a life-saving machine.
Quarantine – Isolating people from outside a particular area so that the virus infection can be prevented from growing. Therefore self-quarantine is resorted to.
Social Distancing – There is a high risk of spreading corona in crowded places. Therefore people have been instructed to maintain a certain distance.
Suggested Article
I hope you like this article about Essay on Coronavirus. If you want to ask any queries regarding the Essay on Coronavirus, then message us in the comment section, and we will reply to you soon. Share this long essay on the Coronavirus article with your friends.