Hello, Welcome To CBSE Digital Edu. Today We Are Going To Discuss A Interesting Topic about Essay on National Education Policy 2020. In this article, we discuss all important information regarding the Essay on National Education Policy 2020 in English 1000 Words.
This long essay on National Education Policy 2020 is beneficial for School Students of Classes 6, 7, 8, 9, 10, 11, 12, Competition Aspirant (SSC CGL CHSL MTS), and UPSC Exam Aspirants.
Essay on National Education Policy 2020 in English



Holistic education in India has a long history. Education in ancient India was concerned not only with acquiring knowledge to lead life in this world, but also for the complete realization and liberation of oneself from worldly bondages.
Education in India was enriched by a mix of cultures that came to India from the invasions to the arrival of the British. Realizing the value of education as an important tool in life building and character building, many initiatives were taken after independence and are still being taken in the field of education.
The New National Education Policy has been launched to provide accessible, equitable and affordable education to all without any discrimination and irrespective of their socio-economic background.
About New Education Policy 2020
Education is a fundamental requirement for the development of a just and just society and for achieving the full human potential for promoting national development. The whole world is passing through a rapid change in the knowledge landscape.
In this context, the New National Policy 2020 was approved by the government of India on July 29, 2020 and approval was also given to change the name of Ministry of Human Resource Development to Ministry of Education. This New Education Policy 2020 will replace the 34 year old National Education Policy 1986.
Vision of New Education Policy
The vision of this New Education Policy 2020 should be to make students proud of being Indian not only in thought but also in behaviour, intellect and action as well as in knowledge, skills, values and thinking, which are important for human rights, sustainable development and be committed to the cause of survival and global well-being, so that they become truly global citizens.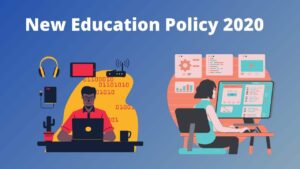 Built on the fundamental principles of easy access, equity, quality, affordability, and accountability for all, this New National Policy 2020 is in line with the 3030 Agenda for Sustainable Development.
Principles of the New Education Policy 
Flexibility: It seeks to provide flexibility to the learners to choose their pace of learning and choose their own path as per their talent.
Multi-disciplinary: To provide holistic education in all fields like science, social science, coding, arts, humanities, sports, etc.
Ethical and Constitutional Values: It aims to inculcate the values ​​of empathy, respect for others, cleanliness, courtesy, scientific temper, liberty, responsibility, equality and justice.
Sustainable Policy: Formulation of policies based on regular assessment of ground reality. Keeping in mind the rich, diverse, ancient and modern culture and knowledge system and tradition of India.
Equality and Inclusion: This will be the objective of all educational decisions, ensuring that all students can thrive in the education system.
Life Skills: Focusing on building life skills such as collaboration, teamwork, communication, resilience, etc.
Professional Value: All teachers and educators will be recruited through rigorous preparation. Emphasis will be placed on preparedness, continuous professional development, positive work environment & service development.
Education as a Fundamental Right: Education is a public service and not a commercial activity. It should be available with sufficient quality to all. There must be strong and sustainable investment in a vibrant public education system as well as an ethical and philanthropic private system.
Components of New Education Policy 2020
Schooling
The policy states that 85% of a child's brain development occurs before the age of 6. Thus, early childhood learning is a top priority. This early education and care will include flexible, multidisciplinary, multi-level, play based, activity based and discovery based learning. It will develop the development of motor skills, social-emotional, moral skills and communication and early language skills.
The present system of 10+2 after elementary education will be replaced by a new 5+3+3+4 curriculum structure. Now, children in the age group of 3 to 8 years will spend 5 years for the foundation stage in preschool education and classes 1st and 2nd grade. Three years will be spent in the preparation phase in classes 3 to 5. In classes 6 to 8 further 3 years will be spent in the middle stages. There will be four years in the secondary stage for classes 9 to 12.
Co-curricular and vocational subjects like sports, arts, commerce, science will be treated at the same level. Students will be allowed to take up coding from class 6 to improve their computer skills. Vocational education will also be promoted along with internship from class 6 onwards.
Class 10th and 12th exams will be easier to test competencies instead of memorizing facts as all students will be allowed to take the test twice. The curriculum content is set to be reduced to classrooms and will focus on critical thinking, and more on discovery based, inquiry based and analysis based learning. A new and comprehensive National Curriculum Framework for teacher education will be developed to improve teacher capabilities.
Medium of Instruction
The New Education Policy provides that the medium of instruction in schools shall be the mother tongue at least up to class 5th but preferably up to class 8th and beyond. This will improve learning at the school level and children will be able to better understand the subjects they will be studying.
Higher Education
In higher education, the Gross Enrollment Ratio will be increased to 50% by 2035 from the current 26.3%. The NEP 2020 also provides for a multidisciplinary higher education framework with portable credits and multiple exits with certificates, diplomas and degrees.
The aim of university education would be to develop good, well rounded and creative individuals. It proposes a higher education system that includes at least one large, multidisciplinary university and college in every district.
It proposes to increase access to higher education through open schooling, online education and open distance education. It seeks to end the fragmentation of higher education institutions and convert them into large multidisciplinary universities.
A comprehensive education system in higher education institutions in which engineering institutions like IITs will also move towards more arts and humanities and students of arts and humanities will learn more science so that education can be more holistic.
Adult Education 
An excellent adult education curriculum framework will be developed by a new and well supported institution under NCERT.
The new curriculum will focus on foundational literacy and numeracy, critical life skills, such as health awareness, childcare, family welfare, vocational skill development, basic education and holistic education curriculum in arts, science, technology, culture, sports etc.
A National Literacy Mission will be launched to mobilize community organizations and volunteers to achieve adult literacy and education outcomes on a large scale. The government will work closely with NGOs and other community organizations and support them as needed.
How will it Improve Education in India? 
The new education policy will give importance to the practical knowledge and skills of the students rather than pushing them towards rote learning. It is going to help the students to develop scientific temper from a very young age.
It is going to focus on universalizing access to higher education from early childhood, integrating over 20 million school children and providing education to even socio-economically disadvantaged children.
The increasing use of technology will help in bridging the gap in the existing system, students who were unable to access education will be connected to the education system with the help of technology. Technology will also aim at removing the traditional barriers of caste, class, society, occupation, etc.
Improving early access to education & childcare will strengthen the foundation of children's education and make them better human beings. A strong foundation will help young children adapt and learn quickly.
The policy seeks to deregulate institutions and remove the shackles of bureaucracy. It will give more autonomy to educational institutions thereby improving their efficiency and delivery of education.
Conclusion about Essay on National Education Policy 2020



The New National Education Policy 2020 is a step in the right direction. It focuses on critical thinking, experiential learning, interactive classroom, integrated pedagogy and competency based learning. Inclusive digital education serves as a strong component of the policy. If investments are made in the education system and all states cooperate to meet the aspirations outlined in the policy, India will be able to take advantage of its young demographic.. Through a strong education system, India will take a big step towards establishing itself as a knowledge superpower.
Also Read: Essay on Coronavirus Pandemic in 1000 Words
Essay on National Education Policy 2020 in English 500 Words
This short essay on National Education Policy 2020 for School Students:
On July 29, 2020, the New Education Policy was announced by HRD Minister Ramesh Pokhriyal Nishank, which will replace the 34-year-old National Education Policy 1986. To formulate a new education policy, a committee of experts under the chairmanship of 'ISRO' chief K. Kasturirangan had prepared the draft of 'National Education Policy 2020' in May 2019.
20 Facts About New Education Policy 2020
India's first Education Policy came in 1968 under Indira Gandhi's government, which was suggested by the Kothari Commission.
The second Education Policy came in 1986 during the prime ministership of Rajiv Gandhi, under which the 10+2+3 model of education was adopted.
In 1992, P.V. Narasimha Rao amended the second Education Policy.
National Education Policy 2020 will be the third Education Policy of independent India after 1968 and 1986.
The name of the Ministry of Human Resource Development has been changed to Ministry of Education. Ramesh Pokhriyal Nishank will be called the first education minister.
Under the New Education Policy, the 5 + 3 + 3 + 4 model will be implemented in place of the currently active 10 + 2 educational model.
The medium of instruction shall be the mother tongue, local or regional language up to the 5th standard.
Vocational courses will be started from 6th class.
According to the New Education Policy, the duration of undergraduate degrees for research students has been 4 years.
The M.Phil course has been abolished in the New Education Policy.
Now, one can do PhD directly after four years of the graduate degree program. No need to do M.Phil.
In the New Education Policy 2020, a target has been set to spend 6% of GDP on education, which is currently 4.43%.
Under the new education policy, a target of 'Education for All' has been set at the secondary level with 100% GER (Gross Enrolment Ratio) in school education by the year 2030.
The GER (Gross Enrolment Ratio) in the upper class has been targeted to be 50% by the year 2035.
A new National Assessment Center named PARAKH will be set up to assess the progress of the students.
The New Education Policy 2020 aims to provide quality education to every child in the age group of 3-18 years by 2030.
Higher Education Commission of India will be created by replacing UGC, AICTC, NCTE.
Himachal Pradesh is the first state to implement the New Education Policy 2020.
Suggested Article
I hope you like this article about Essay on National Education Policy 2020 . If you want to ask any queries regarding the Essay on National Education Policy 2020 , then message us in the comment section, and we will reply to you soon. Share this long Essay on National Education Policy 2020 article with your friends.
  Click here for More Essay Topics